SMATCH autonomous multi-parameter data buoy 
Coastal environment monitoring and water quality control

SMATCH measures and records up to 7 parameters: temperature, pressure (depth), conductivity (salinity), turbidity, dissolved oxygen, fluorescence (Chlorophyll a, Phycocyanine, Phycoerythrin) and pH. Light and compact, SMATCH has been designed for long term use.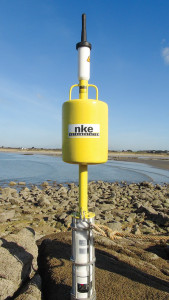 Deployment on a light buoy or on a stationary structure in shallow waters
 Fast wireless configuration and data collection thanks to a communication interface (Radio Data Pencil of about 25m range) connected to the USB port of a PC using Winmemo software.
GPRS or Iridium link for network use
Sensors protected against biofouling by localised chlorination
GPS available with alarm function (swinging circle)

Profiling Buoys 
Remote Water Quality monitoring

The 601 Profiling Buoy is an autonomous system, for permanent or temporary installation, providing remote monitoring of water quality over a profiled depth. It can be put on station easily and rapidly with no special equipment. It can also be easily moved from station to station, towed if necessary by a small boat (such as a RIB). Once dismantled the system can be transported in a small van, or large car.

Principal Characteristics:
• Complete software suite, with post-processing of data
• Remote control of buoy functions.
• Totally portable base station.
• Solidly constructed buoy with Stainless Steel chassis.
• Integrated anti-fouling system.
• Extended choice of sensors.
• Accurate and reliable sensors with no drift.
• Battery life of 3 months or more (typical).
• Completely autonomous system.
• Light and easily installed buoy.
Continuous monitoring over the profiled depth.
Applications:
Pollution control of lakes, rivers and estuaries.
Reservoir water quality.
 Monitoring of power station outlets.
• Monitoring of factory discharge.
• Coastal zone pollution control.
• Monitoring of water treatment discharge.
Typical Measurement parameters:
•Temperature.
Depth (Pressure).
Conductivity.
Salinity.
Dissolved Oxygen.
pH.
Redox.
Turbidity.
Chlorophyll (+ alternative fluorometry).
Nitrates.
Heavy Metals (Pb, Cd, Zn, Cu, Mn, Fe).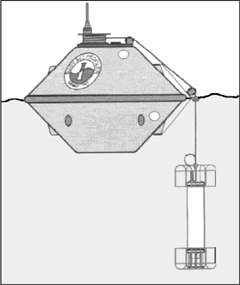 Characteristics
Other measurements are integrated on the buoy.
• chlorophyll-a by fluorescence,
• atmospheric pressure,
• wind speed,
• surface temperature,
• surface salinity,
• dissolved oxygen (optional)
The buoy is autonomous, data are sent via the ARGOS satellite system, which also controls the positioning. The buoy's autonomy is one year based on an hourly measurement rate.
Measuring campaigns have been carried out in the Mediterranean, Greenland Sea, Equatorial Pacific and the Antarctic. The CARIOCA project is part of the EUREKA EU 819 programme.

SC40, SC 40G SVP drifting buoy

The SC 40 and SC40 G drifting buoys are ocean floats that use the moving satellites from the ARGOS system to position themselves and collect their data.
Thanks to their highly optimised cost, these floats can be used for scientific experiments as current sensors and can therefore be equipped with a "Holey Sock" drogue (optional).
Characteristics
The SC 40 buoy measures and sends the surface temperature of the ocean at each transmission; it has a one-year battery autonomy.
The SC 40 G buoy is fitted with a GPS receiver, which activates on a regular basis (15, 20, 30, 60 or 120 minutes). The positions are memorised and form a trail that allows the complete and regular tracking of the buoys thanks to the moving satellites of the ARGOS system. A sensor used to detect the presence of seawater on top of the buoy allows the drogue to be detected by sending the ratio of immersion and emergence periods.
SVP: Surface velocity Program