NKE Instrumentation
NKE Instruments manufacture a range of economical submersible instruments for in-situ measurements, suitable for both research and operational activities. They work closely in France with the Ifremer and CNRS institutes and have developed specialist equipment for Fisheries, Sediment studies and heat-flow monitoring as well as systems to measure corrosion and cathodic protection. They have recently redesigned the range of instruments and introduced the WiSens & WiMo models.

WiMo & WiMo plus

Autonomous multi-parameter probe for Conductivity, Temperature, Depth, Turbidity, Fluorescence, Dissolved Oxygen, pH, etc
Characteristics
4 or 7 positions for plug & play sensors.  Integrated anti-fouling wiper.
Built-in software accessible via web-browser
WiFi or Modbus connectivity
Rechargeable batteries
250m depth rating
Applications
Water quality control, environmental survey and monitoring in shellfish farming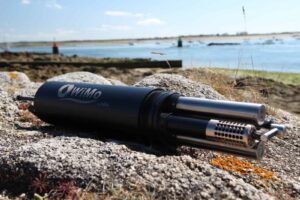 WiSens
Autonomous range of data logging sensors for combinations of Salinity, Temperature, Pressure (Depth), Tides & Waves, Dissolved Oxygen, Turbidity and Acceleration.
The new WiSens family from NKE Instrumentation have WiFi embedded within the instrument that can be accessed via any web-browser on any WiFi enabled device (laptop, tablet, phone).
Internal software means no dedicated interface programme is required and they are simple to set-up, use and download.
They are compact and robust, suitable for applications where mid-range accuracy is required. A user-changeable, high capacity D cell lithium battery can provide power for several years of use (depending on sampling rate). 16MB memory for >2 million readings.
| | | | |
| --- | --- | --- | --- |
| WiSens CTD 50 or 300 | Conductivity, Temperature & Depth | 315mm x Ø 40mm | 435g |
| WiSens TD 50, 500 or 1000 | Temperature & Depth | 230mm x Ø 40mm | 325g |
| WiSens TD 6000 | Temperature & Depth | 265mm x Ø 40mm | 690g |
| WiSens Wave 10 or 50 | Temperature & Depth (Tide & Waves) | 230mm x Ø 40mm | 325g |
| WiSens TBD 50 or 500 | Turbidity, Temperature & Depth | 320mm x Ø 40mm | 400g |
| WiSens AD 6000 | Acceleration & Depth | 261mm x Ø 40mm | 700g |
| WiSens DO | Dissolved Oxygen, Temperature, Depth | 320mm x Ø 40mm | 400g |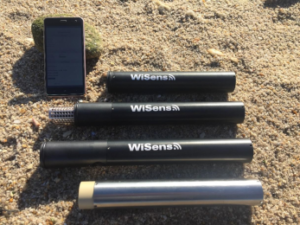 SMATCH
Operational remote-transmission multi-parameter probe
Characteristics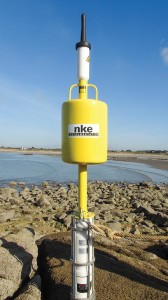 Available parameters:
Depth: range 0 to 20m; accuracy < 0.06m; resolution 0.006m
Temperature: range -5°C to +35°C; accuracy <50m°C in the range 0-20°C; resolution 1m°C at 10°C
Conductivity: range 0 to 70 mS/cm: accuracy <0.05 mS/cm in the range 0 to 60 mS/cm; resolution 0.0012 mS/cm
range 0 to 2000 µS/cm: accuracy 5 µS/cm; resolution 0.04 µS/cm Salinity:
range 2 to 42 PSU at 20°C: accuracy ±0.1 PSU;
range 0 to 1.137 PSU at 20°C: accuracy <0.002 PSU; 
Dissolved Oxygen
Saturation: range 0 to 120%; accuracy < 5%
Concentration: 0 to 16mg/l; accuracy < 5%
Turbidity: Range (configurable at works) 25, 125, 500 or 750 FTU / 2.5 FTU on demand (non-linear above, max. 1500 FTU) – Seapoint Optical Sensor
Fluorescence: Chlorophyll a – Turner Design optical sensor
pH: Range 0 to 14pH Resolution 0.0003pH
Time: Internal clock with calendar (clock drift<1mn/month)
Energy autonomy: Depending on transmission, measurement and chlorination periods, examples for TI or TD type: 12 months with standard chlorination and daily data transmission.
Memory: 4Mb
SMATCH: diameter: 110 mm length: 425mm weight: 3.6kg
Buoy equipped with SMATCH, max. sizes: diameter.: 26cm length: 1750cm weight:11kg

Applications
Water quality control, environmental monitoring, monitoring in oyster culture zones, salinity and turbidity measurements for adjustments of hydrodynamical models.